CNN Decries Virginia Second Amendment Protest As "Worst Far-Right Extremism Ever"
by Hugh Jashol
(Richmond, VA)
CNN anchors are in mourning after Monday's huge Second Amendment protest rally on Martin Luther King, Jr. day in Richmond, Virginia.  It wasn't because of the loss of life and damage to government property–because there literally wasn't any–but because of the lack of "extremism" that CNN desperately needs to maintain their viewership and support their political biases.
After relentless fear-mongering and grossly over-reacting to perceived "threats" in the days leading up to the event,  Virginia Governor Ralph "Blackface" Northam tried to set conditions for a "Thunderdome"- style cage match between left and right protesters outside of the Virginia Capitol building.  The mainstream media was salivating over the ways that they could blame President Trump for the carnage that they just KNEW was about to ensue.
"The Far-Right extremists are mass producing FlintGlocks(tm)," CNN reported breathlessly the day before the protest, imagining the carnage that they could hype once the alt-right opened fire with their full-semi-automatic flintlock ghost guns, like the one pictured below.
pictured:  FlintGlock(tm) "Ghost Gun" recovered at the Virginia Capitol during the "worst far-right extremist event" ever.
Yet, as the crowds peaceably dispersed on Monday afternoon after exercising both the First Amendment and Second Amendment rights, CNN was left disappointed, apoplectic even.
"We know how this would have ended if this would have been led by the left," CNN explained during a "solemn and serious" press conference on Monday evening. "There would have been burning, blood, and chaos everywhere if this had been any kind of leftist protest.  WE NEED THAT.  And since everyone knows that the far Right, which by definition is anyone who doesn't think like us. is *literally* Hitler, we just KNEW that there was going to be a massacre.  But… it wasn't.  Not a single gun came to life and shot someone on its own.  There were no racist events.  No fights.  Nothing."
"I mean–damn it!–they even cleaned up their trash afterwards.  No murders… no mayhem… not even any trash??  Minorities and pro-gun lefties showing up en masse to support them?? Worst.  Far-Right Extremists.  Ever."
One of the reasons the Second Amendment protests turned out so well is because of who didn't show up:  Antifa.  At least, they didn't turn out to fight.  Intrepid Article 107 News reporter Hugh Jashol was on Ground Zero on Monday morning and engaged with the one Antifa protester who was present, just before she was arrested on felony charges of wearing a mask in public.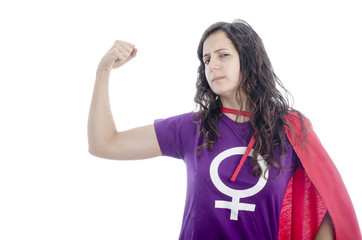 pictured:  the one lone Antifa counter-protester who showed up at the "Worst Far-Right Extremist Event Ever" on Monday
"Well, it's really simple," explained  Caterina Josefina Jones-Nakembe-Montoyo, an unemployed 22-year-old feminist who double-majored in Gender Students and White Self-Loathing at Yale University. "It's really easy to be polite when you know that the person you assault can respond with immediate and lethal force.  Every time I felt the urge to "bash the fash," I saw that said fascist was armed.  With like… ALL of the guns.  One dude was carrying a five-foot sniper rifle that weighed more than I did.  So, we decided that we'd go back to assaulting elderly Trump supporters and attacking conservative speakers at colleges I don't even go to, and leave all of the armed, alert, and organized Conservatives alone."
pictured:  "Any Antifa want to sucker-punch me when my back is turned?  No?  Nobody?" /disappointed
---
Article 107 of the military's Uniform Code of Military Justice covers "False Official Statements." As our name implies, we are a satirical site, and you shouldn't think anything we publish is real. You should, however, mercilessly mock anyone who does… especially CNN. You can follow Article 107 News on Twitter at @Article107News. If you're looking for real news, check out our sister site The Havok Journal. Or you can visit us on Facebook or follow us on Twitter at @HavokJournal.
An Article 107 News Publication
The best place to get the facts before they happen!